Success Story: A Training Center of Their Own
July 2015 Newsletter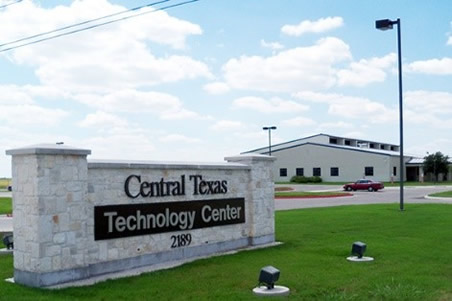 Central Texas Technology Center
If you create a job and no one has the skills needed to fill it, did you really create a job? Workforce development must be a critical focus of all economic development organizations. It's imperative that workers receive training that matches the needs of employers. In 2000, the town of New Braunfels, Texas, was faced with a problem. The town wanted to attract new industries, but their existing businesses were expressing concerns about the lack of skilled workers to meet their current and future needs.
Located between San Antonio and Austin, New Braunfels had no education or training facility. Residents looking to attain entry-level skills, increase technical skills or connect to jobs or higher education opportunities had to travel the 30-50 miles to San Antonio or Austin to do so. As a result, the Alamo Community College District joined with officials from the towns of Seguin and New Braunfels to create the Central Texas Technology Center (CTTC).
In 2002, EDA invested $1.3 million to help fund the construction of the CTTC. By 2004, the construction was complete, and classes began in automotive technology, welding technology, manufacturing skills, and industrial maintenance. CTTC also offered general education core coursework in college algebra, English, history, and government for those students seeking credit courses for transfer to university systems during the off-peak hours. The student populace continued to grow within the facility and enrollment in workforce programs continued to rise, helping local businesses advance their employee's professional pathways through educational opportunities. In 2011, the region had become one of the fastest growing corridors in the State of Texas and the center had grown to support 1,000 students per semester (2,000 per year).
In 2012, a new large engine manufacturer located to the area and created an opportunity for CTTC to train more than 2,000 employees. The center became saturated and exceeded the center's operating capacity during peak operating times, and was at capacity during all other times which necessitated a 24 hour educational center operation. The New Braunfels Higher Education Task Force again enlisted the assistance from an educational statistics professional with the goal to understand if this was a temporary anomaly or if this was the new regional need for higher education within the region. The statistics showed that there was indeed a definite need for higher education. The CTTC applied for and was approved to offer a full associate degree, delivering even more higher education opportunities to students in the region.
The CTTC clearly filled a void in the community, and it needed to expand in order to meet the current demand for training. In 2013, a bond was approved that would provide $4 million in taxpayer dollars to help fund the expansion, but the region still needed additional funding to complete the project. In 2014 EDA awarded another $1.3 million to the city of New Braunfels to support the construction of the new 30,000-square-foot building that will house general instructional space, biology and chemistry labs, student support areas, and faculty offices. The additional space will allow the training center to keep pace with demand and continue training the Central Texas workforce with the skills employers in the area need.
"CTTC has been a tremendous resource to our community, and we are very grateful for the support we received from EDA and our other partners to make the Center a reality," said Chester Jenke, Center Manager. "We look forward to expanding and continuing to offer vital training to the Central Texas workforce."
"From the beginning, our project has been about partnership and collaboration, and when local government, schools, business and industry, workforce, and citizens work to create wealth and opportunity in a community, good things happen," said Rusty Brockman, Director of Economic Development for the Greater New Braunfels Chamber of Commerce. "Both Phase 1 & 2 required partners who were willing to see the final goal before it was achieved and make it become a reality for thousands of students—young and old alike. Our relationship with the U.S. Department of Commerce and the Economic Development Administration has created a winning team in New Braunfels, Texas and for that we are appreciative."
CTTC broke ground for the expansion on May 14 and estimates the new facilities will be complete by April 2016. The center expansion will serve more than 3,500 students per year and strive to deliver programming in high-demand occupational areas such as nursing and manufacturing technology to fulfill the regional needs. These investments provide long-range pathways of success for local residents thus ensuring that if you create a job in the community, there is someone qualified and ready to fill it.