Iowa
---
| Program | # of Grants | EDA Funds |
| --- | --- | --- |
| Economic Adjustment Assistance | 1 | $2,212,859 |
| Public Works | 2 | $2,740,463 |
| Regional Innovation Program | 2 | $706,569 |
| Technical Assistance | 2 | $406,013 |
| Planning | 14 | $914,000 |
| Grand Total | 21 | $6,979,904 |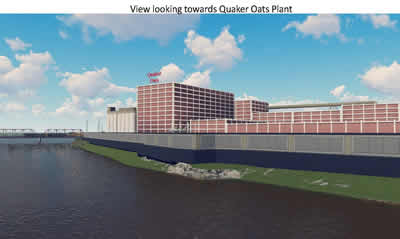 Quaker Oats image looking towards the plant in Cedar Rapids, Iowa, showing the floodwall in gray and the water main in the dark blue area
Cedar Rapids, IA - The City of Cedar Rapids, home to over 130,000 people, experienced a devastating flood in 2008 that caused approximately $2,000,000,000 in damages. PepsiCo Quaker Oats, one of the area's major employers, is still recovering from the flood and faced potential subsequent flooding, causing the company to examine the redevelopment of their current location. A permanent flood control levee was needed to prevent future job losses and significant decreases in revenues due to flooding. The levee, designed to provide protection to the Central Business District of Cedar Rapids would not be effective unless a new water main was relocated.
In July 2017, EDA invested $1,729,500 in Public Works funds to The City of Cedar Rapids to help support relocation of the water main which was needed for the city to recover from the flood and become more resilient to future flooding. Failure of the existing water main at its current location would cause catastrophic water damage to the PepsiCo Quaker Oats food manufacturing facility and the potential loss of jobs and taxes would severely impact the region's economy.
EDA's investment to relocate the transmission water main so Cedar Rapids could construct a new permanent flood control structure along the banks of the Cedar River provided protection to the Central Business District of Cedar Rapids. Without the investment, more than 900 jobs at the PepsiCo Quaker Oats facility would be in jeopardy due to future flooding events. Quaker Manufacturing committed to saving 442 jobs as a direct result of the project, and contributing $432,000 in private investment.