Kansas
---
| Program | # of Grants | EDA Funds |
| --- | --- | --- |
| Public Works | 2 | $850,000 |
| Regional Innovation Program | 1 | $150,000 |
| Technical Assistance | 2 | $365,000 |
| Planning | 6 | $354,000 |
| Grand Total | 11 | $1,719,000 |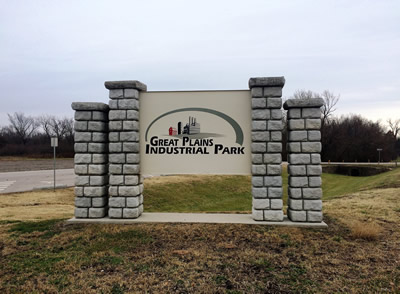 Great Plains Industrial Park infrastructure improvements in Labette County, Kansas
Labette County, KS - The Great Plains Development Authority in Labette County, Kansas serves an area that is one of the most economically distressed regions in southeast Kansas. The area suffers from high unemployment and low per capita income. In 2005, the Base Realignment and Closure Commission recommended that the Kansas Army Ammunition Plant (KSAAP), located in the area, be closed by 2011. The KSAAP was constructed in 1941 and was vital for the nation's efforts in World War II, the Korean, Vietnam, and the Gulf Wars, as well as the Global War on Terrorism.
In August 2017, EDA invested $500,000 in Public Works funds to the Great Plains Development Authority to fund infrastructure improvements to the water delivery system at the Great Plains Industrial Park in the County. The total site encompassed 13,951 acres, of which 6,800 acres was transferred to the Great Plains Development Authority for industrial use and redevelopment.
EDA's investment to construct waterline improvements to the Great Plains Industrial Park is anticipated to create 75 new jobs, which will help alleviate the economic distress in the area. The proposed new mainline will not only supply the water needs of the existing tenants and eliminate the more than 50 percent seepage loss currently occurring, but will also be more than adequate to accommodate future tenants. Improvements to the water supply system will increase utility reliability, reduce utility costs, and increase resource conservation.