Louisiana
---
| Program | # of Grants | EDA Funds |
| --- | --- | --- |
| Disaster Relief | 9 | $2,573,122 |
| Economic Adjustment Assistance | 3 | $2,270,000 |
| Public Works | 2 | $2,320,000 |
| Regional Innovation Program | 4 | $1,297,802 |
| Technical Assistance | 2 | $205,180 |
| Planning | 7 | $260,000 |
| Grand Total | 27 | $8,926,104 |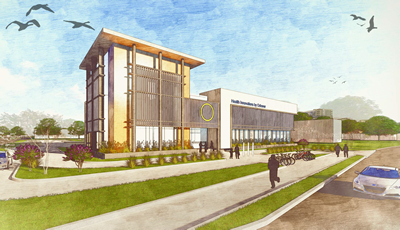 Initial rendering of Ochsner Center for Innovation in New Orleans, Louisiana
New Orleans, LA - Once a thriving corridor, Jefferson Highway Economic Development District in New Orleans suffers from a lack of private and public investment, fleeing businesses and many abandoned buildings. Along the corridor near the proposed site, a blighted strip mall occupies 30 acres and more than ten other businesses remain vacant. This region experienced multiple economic stresses emanating from natural and environmental disasters. Hurricanes Katrina, Ike, Gustav, the BP oil spill and downturns in oil and gas industry have devastated the area.
In June 2017, EDA invested $1,500,000 in Public Works funds to the Ochsner Clinic Foundation to fund construction of an 8,020 square foot Center for Innovation. Key components of the Center includes a collaborative space for health innovation and digital health technology companies to develop, co-develop, incubate, and test new innovations. It will serve as the headquarters for a team of product engineers, physicians, nurses, health coaches, and technicians. A prototype lab and workshop space will exist to create and test the application of new technologies in a full-scale mock hospital room, waiting room, and exam room. In addition, a state-of-the-art executive conference and training center for partners to showcase innovations and host community events including job trainings, business assistance programs, and educational seminars will be created.
This project will generate measurable impacts in revitalizing the distressed community. It is anticipated that the Center will create and/or save an additional 290 jobs over the next nine years. Nearly $4,000,000 will be leveraged through private investment including the donated project site valued at approximately $2,375,000, Ochsner's cash investment of $1,200,000 and GE's annual commitment of $400,000.