Maryland
---
| Program | # of Grants | EDA Funds |
| --- | --- | --- |
| Public Works | 1 | $200,000 |
| Regional Innovation Program | 1 | $500,000 |
| Technical Assistance | 1 | $116,667 |
| Planning | 3 | $210,000 |
| Grand Total | 6 | $1,026,667 |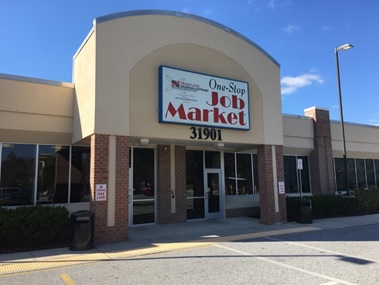 The Lower Shore One-Stop Job Market facility in Salisbury, MD
Salisbury, MD - The Lower Shore One-Stop Job Market was an FY 2009 Public Works project. The facility has expanded with additional services addressing the need for new jobs in the economically challenged Lower Eastern Shore of Maryland. The area has historically lagged behind the State of Maryland in percentage of people employed and lack of a highly trained workforce. The goals of the Comprehensive Economic Development Strategy Committee included the diversification of the economy as well as workforce development to remedy some of the distress. Extremely low incomes and high unemployment are a consequence of the industrial structure of the region and a result of a relatively low skilled workforce. The Tri-County Council (TCC) provides essential services to job seekers primarily through the One-Stop Job Market program in the county, an arm of the TCC.
In May 2017, EDA invested $200,000 in Public Works funds to the TCC to fund the installation of new sewer and water connections to the Lower Shore One-Stop Job Market. The TCC of Lower Eastern Shore operates and manages the current water and sewer service at the Tri-County Building but current service levels are inadequate to meet the needs of new tenants, specifically the hospitality and food service training facility. The investment will assist in improving the expansion of a mass transit access facility for job seekers and address the need to provide job training and placement in the economically challenged region.
Completion of the project will support continued operations and expansion of the TCC of the Lower Eastern Shore of Maryland's multi-tenant facility. It is anticipated that completion of this project will result in 40 new jobs, 3 retained jobs and $967,500 in private investment.