Mississippi
---
| Program | # of Grants | EDA Funds |
| --- | --- | --- |
| Public Works | 2 | $2,187,609 |
| Technical Assistance | 1 | $118,000 |
| Planning | 9 | $490,000 |
| Grand Total | 12 | $2,795,609 |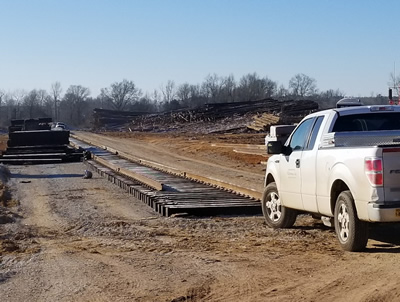 Photo of the construction of the rail spur, and industrial road to benefit Biewer Lumber Company in Newton, Mississippi
Newton, MS - The east central area of Mississippi has recently suffered from disproportionate economic distress and job losses. Since 2010, and through 2016, this region had approximately 1,047 layoffs including the closure of the local hospital in November 2015, the ESCO Corporation reducing its labor force by 56 persons, and the closure of both the Avery Corporation and Peavy Electronics. Additionally, the Walnut Grove Detention Center closed in September 2016, resulting in a loss of 200 more jobs. These job losses for unskilled workers created a high unemployment rate. The proposed project is a joint effort between officials of the City of Newton and members of the Newton County Board of Supervisors which will assist with infrastructure financing for the new saw mill in the Newton Industrial Park.
In February 2017, EDA invested $1,277,923 in Public Works funds to the City of Newton to repair and extend an existing rail spur at the site and upgrade weight limits on existing industrial roads to accommodate increased heavy truck traffic servicing the new plant. The project will impact the east central region by creating higher hourly wage rates in an area with high unemployment.
The 125 jobs anticipated to be created by a lumber manufacturer and distributor located in the Newton Industrial Park will help provide new employment opportunities for residents seeking job opportunities. The project will also leverage $85,000,000 in private investment. Additionally, this project will create job opportunities for area businesses who will contract with the city for the construction of this plant, rail spur, and roadway.