North Dakota
---
| Program | # of Grants | EDA Funds |
| --- | --- | --- |
| Economic Adjustment Assistance | 1 | $167,136 |
| Technical Assistance | 1 | $100,000 |
| Planning | 12 | $764,000 |
| Grand Total | 14 | $1,031,136 |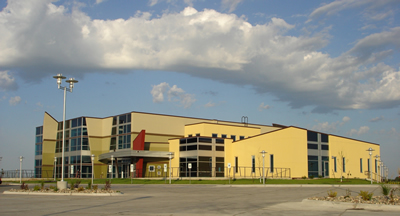 North Dakota State University's Incubator Building in Fargo, North Dakota
Fargo, ND - North Dakota lags in growth of jobs in areas of science, technology, engineering, and math (STEM) services, ranking 45th among all States in STEM concentration. Expanding higher education in areas of research and development and training employees with STEM skills will help facilitate innovation and job growth. Leveraging applied research and technical assistance to help communities capitalize on economic development opportunities is needed to foster innovation and to support commercialization and technology transfer for applied research to advance entrepreneurship in the region.
In July 2017, EDA invested $100,000 in University Center funds (through the Technical Assistance Program) to North Dakota State University Research and Technology, Inc. to support the fifth year of a five-year EDA University Center award. The project focuses on providing technical assistance for new and existing businesses, product development strategies for new ventures, and entrepreneurial training and mentoring. Additional activities include identifying and providing technical support for STEM-based innovation clusters and enhancing the entrepreneurial resource network. Applied research activities in the fifth year will focus on compiling a comprehensive database of faculty research, identifying and solving specific problems in cluster industries, and increasing corporate interactions with applied research activities.
The project will identify, analyze, and maximize assets by commercializing intellectual property, utilizing specialized on-campus equipment through specific collaborations with targeted private sector STEM partners, and enhance public/private partnerships with access to key talent and expertise vital to STEM industries. North Dakota State University estimates the project will create or retain 37 jobs and generate $1,000,000 in private investment as a result of University Center clients achieving the expected results.