Nebraska
---
| Program Category | # of Grants per state | Sum of EDA $ |
| --- | --- | --- |
| Planning | 7 | $770,000 |
| Public Works | 2 | $1,009,485 |
| Technical Assistance | 1 | $112,000 |
| Grand Total | 10 | $1,891,485 |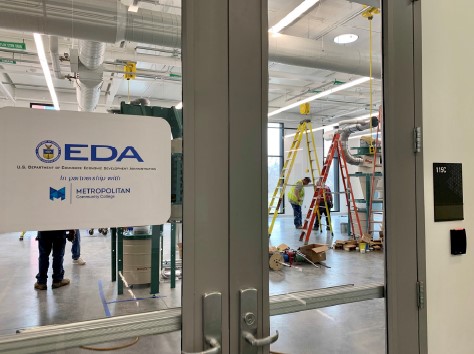 Douglas County, Nebraska and the Omaha metropolitan area is home to five Fortune 500 companies. An additional thirty Fortune 500 companies with manufacturing plants are in the metropolitan area. The region's economy is well diversified and acknowledged for its high quality of life, solid economy, and low cost of living. At the same time, there are serious inequities, with several areas of the county suffering high rates of poverty and inequalities in education. Manufacturers in the Omaha metropolitan area report that the shortage of qualified workers is their main challenge.
Recognizing these challenges, Metropolitan Community College (MCC) launched a new Center for Advanced and Emerging Technology on its Fort Omaha Campus in 2017 to support demonstrations, workforce training, and pilots of new industry. The Center's goal is to bring companies to campus to work side-by-side with faculty and students to simultaneously expand and enhance the region's workforce pipeline, especially ensuring that students from high poverty neighborhoods have access to these career-boosting opportunities.
In FY 2018, EDA awarded $393,812 in Public Works funds to MCC to remodel and retrofit the existing facility to expand and enhance hands-on, experimental learning in digital design, prototyping, and sustainable technology. MCC works closely with a variety of local industry partners, creating a pipeline for workers to enter good jobs in the region. MCC estimates that 450 jobs will be created because of this project.