Texas
---
| Program Category | # of Grants per state | Sum of EDA $ |
| --- | --- | --- |
| Disaster Relief | 14 | $33,830,000 |
| Economic Adjustment Assistance | 6 | $2,490,000 |
| Planning | 21 | $4,300,000 |
| Public Works | 6 | $6,950,000 |
| Technical Assistance | 4 | $413,550 |
| Trade Adjustment Assistance | 1 | $1,145,078 |
| Grand Total | 52 | $49,128,628 |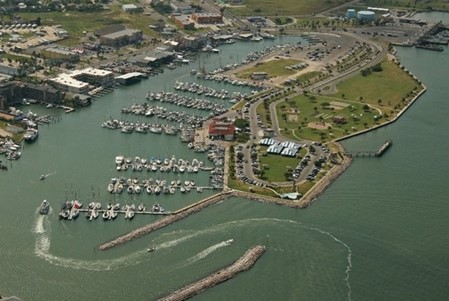 When Hurricane Harvey made landfall on August 25, 2017, the eye of the storm passed 10 miles north of the City of Port Aransas, inundating the town with storm surge and high winds exceeding 140 mph. As the town was evacuated, the storm disrupted businesses and destroyed essential infrastructure, including the Port Aransas Municipal Marina. In the wake of this destruction, City residents had to look outside of Port Aransas for work and the revenue from the City's marina, usually over $600,000 per year, decreased by 43 percent.
In FY 2018, EDA awarded $5 million in Disaster Relief funds to the City of Port Aransas for the purchase of property needed to house essential infrastructure and make much needed enhancements to the marina to protect against future storms, including improvements to floating and fixed docks, as well the pavilion and Harbor Master Office. As part of the City's overall recovery and resiliency plan, the City planned to rebuild and improve the marina, ensuring that it was built back stronger and more resilient.
The new infrastructure will protect the marina from similar damage in future weather events limiting the likelihood of the same economic devastation caused by Harvey. Not only will this improve outcomes in future disasters, but it is calculated to attract back current and draw future businesses, as they can be assured they will be better protected from future storms. Initial estimates reflect the creation of 61 new jobs and the retention of 71 jobs. In addition, expediting the repairs will allow community members, many of whom had to leave to find employment elsewhere following the storm, to come home and go back to work.