Success Story: EDA Invests in Recovery of University of Texas at Austin's Marine Science Institute After Hurricane Harvey Damage
Hurricane Harvey severely damaged Port Aransas, TX in August 2017.The city's largest employer, the University of Texas (UT) Marine Science Institute, sustained more than $45 million in damage.
On August 1, Deputy Assistant Secretary Dennis Alvord announced a $5 million EDA grant to UT-Austin to renovate the Marine Science Institute Campus and help establish the Center for Coastal Ocean Science. The grant is being matched with $1.25 million in local investment.
The project will help repair multiple buildings that were damaged by Hurricane Harvey and allow for the installation of a new seawater system to support the campus in the event of future severe weather.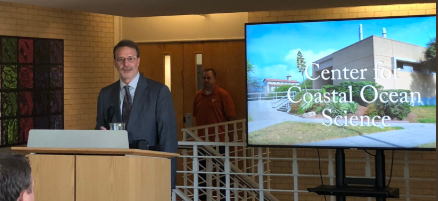 Deputy Assistant Secretary Dennis Alvord announces EDA grant to UT-Austin, in Port Aransas, TX
"The Lone Star State is grateful to our federal partners for their assistance in rebuilding and repairing UT Austin's Marine Science Institute Campus in Port Aransas," said Governor Abbott. "Thanks to investments like this one, along with the matched $1.25 million for the local community, Port Aransas can continue its rebuilding efforts and remain a hub of research and innovation for marine sciences."
"Nearly two years after Hurricane Harvey devastated Texas, there's no question our hardest-hit communities are still rebuilding," said Senator Cornyn. "I'm thankful to the Trump Administration for providing this federal grant to Port Aransas to repair the University of Texas Marine Science Institute Campus, creating jobs in the Coastal Bend Region and restoring normalcy for students and researchers after the storm."
"Our state has made huge strides on the road to recovery, thanks in large part to the strength and tenacity of the communities along the Texas Gulf Coast," said Senator Cruz. "Port Aransas is no exception. I am grateful these funds will be used to repair the UT Marine Science Institute Campus, and will continue working to ensure Texans receive the resources they need to rebuild."
"This EDA grant brings important hurricane relief to our district while preserving jobs and stimulating private investment," said Congressman Cloud. "I'm excited to see the facilities rebuilt at UT Port Aransas and the resulting economic growth in the community. There is more work to do but this is a big step forward in the recovery process."
According to an article about the investment published in UT News, the Center for Coastal Ocean Science will be Texas' first research facility dedicated to the understudied field of marine chemical ecology. It will engage scientists and students from universities, industry and government to explore the chemical language of the sea and the effects of natural and human-introduced chemicals on marine life and ecosystem health. Understanding these chemical codes will lead to better evaluations and restorations when disruptions occur.