Success Story: EDA University Center Participates in Cross-Campus Collaboration to Aid Response to COVID-19 Pandemic
An EDA University Center partner, the Tom Love Innovation Hub at the University of Oklahoma (OU), is participating in a cross-campus effort to create and validate essential medical equipment in support of our healthcare heroes.
Led by Innovation Hub Executive Director Tom Wavering and Dr. Yacoub Al Sakka, director of digital technologies in the OU College of Dentistry, OU's For Oklahoma Covid-19 Task Force is comprised of more than 40 individuals. Together across three campuses, they are combining their expertise to develop, prototype, validate and offer recommended essential equipment designs.
Member of the For Oklahoma Covid-19 Task Force Helps to Create PPE
The Task Force, which includes engineers, designers, occupational health and safety experts, doctors and specialists from the OU Norman campus, the Health Sciences Centers in Oklahoma City, and OU-Tulsa, has been evaluating prototypes and iterating designs.
Designs are first developed by several groups across the university and prototypes are then shared with experts and health professionals for practical, hands-on feedback and industry standards testing.
"There has been an incredible desire among makers and manufacturers to provide products that our front-line health care workers so desperately need," said Mr. Wavering. "Innovating and publishing these medically vetted designs is one way OU can leverage our expertise and resources in the broad effort to fight COVID-19."
Designs that meet both industry standards testing and the needs of front-line health care professionals are published and available for public download at ou.edu/foroklahoma.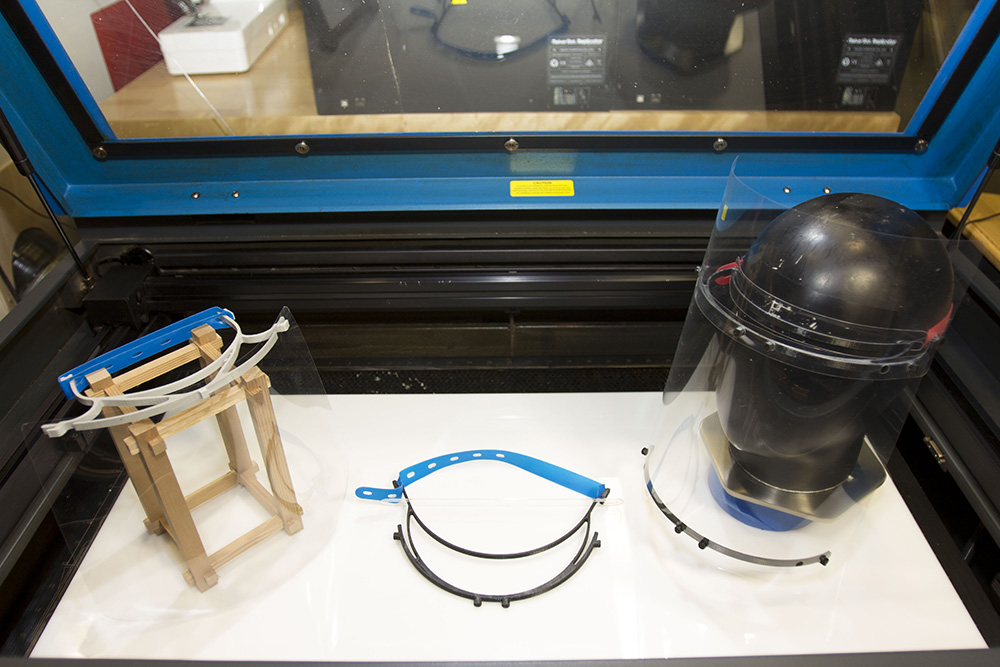 Prototypes of PPE created by the For Oklahoma task force
EDA University Centers usually provide expertise and technical assistance to develop, implement, and support regional strategies that result in job creation, high-skilled regional talent pools, and business expansion in a region's innovation clusters.
In this case, the Tom Love Innovation Hub and other programs across the OU are stepping up to pool resources, talent, and knowledge in a way that could not only create jobs and boost the economy, but also help medical healthcare professionals save lives.