Success Story: EDA's nearly $175 million in Foreign Direct Investment projects in Distressed Communities Attract Investors from Across the Globe
Foreign Direct Investment (FDI) is one of EDA's main investment priorities and critical to supporting projects that promote and facilitate business investments in the United States.
In 2019, global FDI stayed at a flat rate at $1.39 trillion, compared to $1.41 trillion in 2018. However, unlike the larger declines in other economies, the United States received consistent FDI between 2018 and 2019, with $251 billion in 2019.1
These estimated numbers reflect that the United States is the largest recipient for FDI in the world, with inflows at least $100 billion greater than those of any other destination market.
Communities across the country have made attracting FDI a key component in building economic development strategies and EDA has helped drive these strategies forward.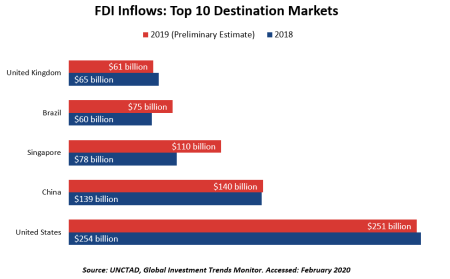 FDI Top Destination Markets 2019
Since the beginning of the Trump Administration, EDA has invested more than $174.8 million in 117 FDI-related projects to help communities and regions build capacity for economic development.
These projects include $148.8 million in 62 projects that are, according to recipient estimates, expected to create or retain 23,311 jobs and attract close to $4.3 billion in private investment.
EDA also invested more than $26 million in 55 projects to support planning, research, technical assistance, access to capital, or other activities that are essential for successful economic development and job creation in the future.
In addition, EDA works with our economic development organization stakeholders to encourage their participation in the annual SelectUSA Investment Summit. Due to COVID-19, this year's Summit is postponed until June 2021. However, resources are still available virtually and SelectUSA offers a number of digital resources and learning tools about U.S. investment and growth strategies.
As the global economy continues to recover and grow, EDA is working closely with its grantees and state and regional partners to support a variety of FDI strategies.