EDA Invests in the IEDC Volunteer Assistance Program to Help Communities Impacted by Hurricane Harvey
A community stakeholder participates in a visioning workshop in Port Arthur.
Immediately following the impact of Hurricane Harvey on August 25, 2017, which the National Oceanic and Atmospheric Administration has stated was "the most significant tropical cyclone rainfall event" in U.S. history with up to 48-60 inches of rain and estimated damage of $125 billion, EDA's Austin Regional Office invested $175,000 in the International Economic Development Council's (IEDC) Volunteer Assistance Program to help impacted communities. The IEDC program compiled a database of economic planners from across the United States to volunteer their expertise by being deployed to work in southeast Texas communities including Port Arthur, Humble, Rockport, Aransas Pass, Jasper, Houston, Beaumont, Wharton, Katy, Ingleside, Smithville, Matagorda County, and San Augustine County.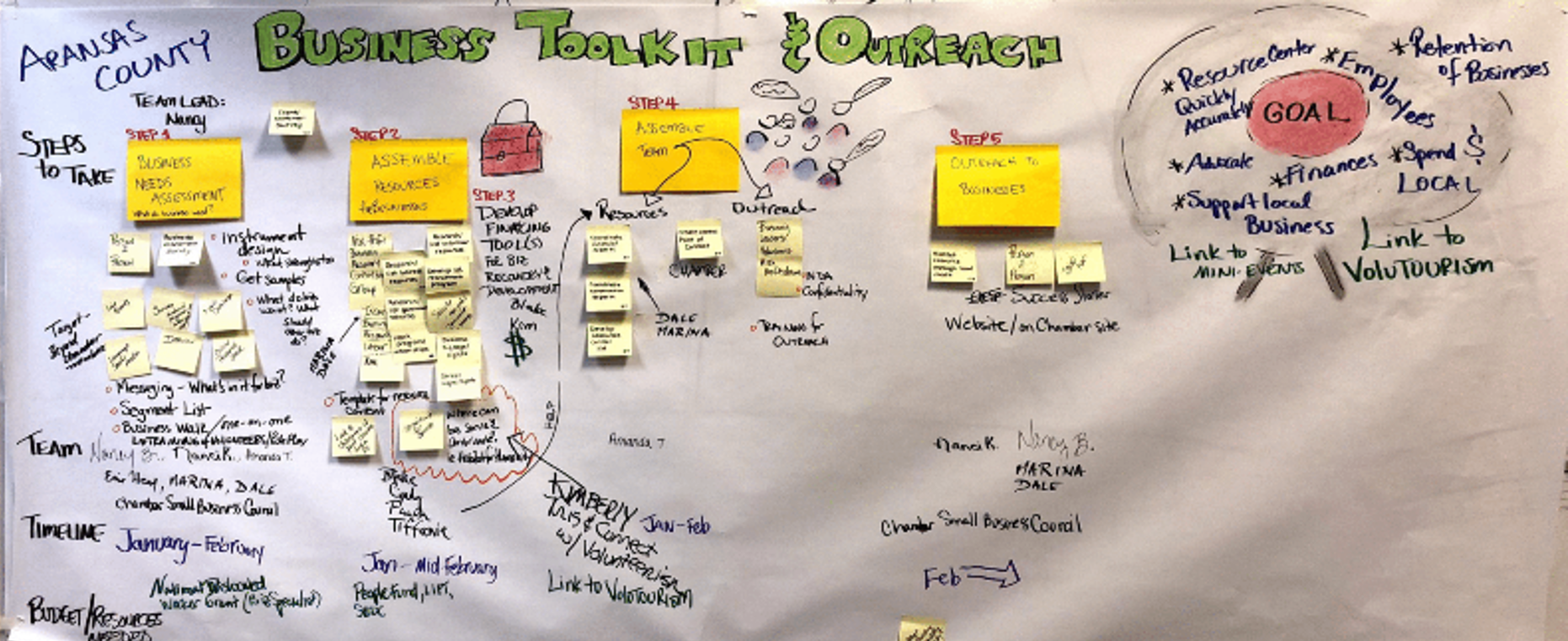 Brainstorming notes are part of the action planning process conducted in Rockport-Fulton.
Through the Volunteer Assistance Program, IEDC matches experts from across the United States that are equipped with skills to benefit the unique work plans developed by impacted communities. A variety of entities have requested IEDC Volunteers including local governments, chambers of commerce, and other economic development organizations. IEDC Volunteers spend as much as a week in the communities they assist, in addition to time spent off-site on preparation for the assignment and during follow-up communications. Projects completed since November of 2017 include action plans for organizations and communities, project feasibility analyses, community and business assessments, business retention and expansion activities, loan fund advisement, recovery and resiliency planning, and more. To date, 22 Volunteers have been placed in impacted communities and there is a pipeline of IEDC Volunteers available to meet the needs of communities requesting assistance in the coming months.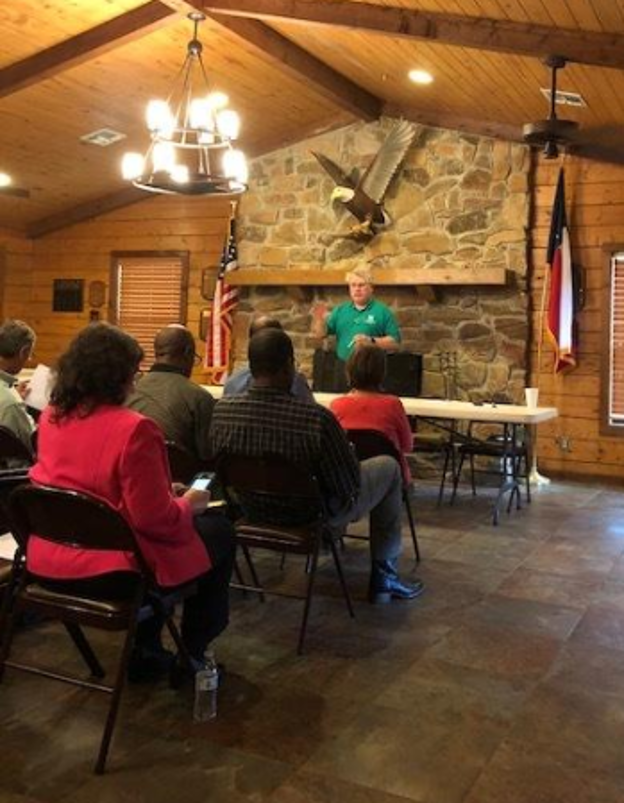 Jim Fram, an economic development professional who most recently served Hot Springs, Ark., worked with San Augustine County stakeholder to develop an action plan for economic development.
One volunteer spent a week working with the Greater Beaumont Chamber of Commerce and its partners to offer strategies to strengthen the South Park neighborhood, recommend actions to increase civic engagement, determine benchmarks for redevelopment, assess organizational capacity, and identify financing strategies. "Having [the volunteer] here gave us a different perspective on community re-development," said Ana Pereda, Vice President of Economic Development at the Beaumont Chamber of Commerce. "His vast experience helped us see the big picture for this project."
Another volunteer worked with the Rockport-Fulton Chamber of Commerce (RFCC) to facilitate recovery strategy meetings among the business community. Through her assistance, said RFCC President Diane Probst, "We were able to devise a very concise and quick economic recovery action plan. She helped us cut through the disaster situation and see the opportunities."
Lonnie Hunt, Executive Director at the Deep East Texas Council of Governments (DETCOG) has also leveraged the IEDC Volunteer Assistance Program for his community that was impacted by Hurricane Harvey. "We've had four IEDC Volunteers working in our region – two of them assisting DETCOG and two working in local communities," said Lonnie. "They have been a tremendous asset. Each one has been very knowledgeable and experienced. And even though they've come from different parts of the country, they've all fit in here so well. Thank you, EDA and IEDC!"
Tags: Disaster