EDA and Disaster Recovery: What our Stakeholders are Saying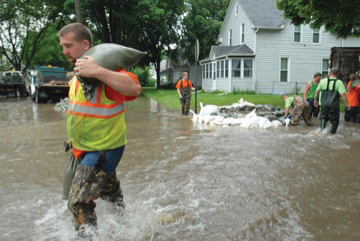 Responders working to hold back flooding with sandbags
EDA has a long history of successfully supporting disaster recovery and resiliency efforts.
Currently, the agency had $587 million available for disaster recovery grants in areas impacted by Hurricanes Harvey, Irma, and Maria and wildfires and other federally declared natural disasters occurring in calendar year 2017.
Read below about what some EDA disaster recovery grantees have said about working with the agency to support their local disaster recovery and resiliency strategies...
Cheri Soileau, Executive Director, Imperial Calcasieu Regional Planning and Development Commission, Louisiana:
"EDA investments across Louisiana's Economic Development Districts contribute to the resiliency and economic success of our local communities. Our State has benefited from EDA's public works and economic adjustment assistance construction grants and partnership planning and strategy grants during multiple economic downturns and repeated natural disasters. From ports to base reuse to high tech to workforce development investments, EDA's contributions in our eight EDDs strengthen local capacity as we engage and train Louisiana's citizens and stakeholders, enhance outreach to additional communities, and in times of disaster, stand-up emergency operations quickly. EDA's wide ranging approach to economic development gives Louisiana the latitude to address the myriad of socio-economic problems in the State. That approach helps support job creation and personal wealth for Louisianans as well as aid in disaster mitigation and resiliency."
Dan Hendrix, President & CEO, World Trade Center Arkansas:
"We have assisted businesses in the 69 Arkansas counties which were victims of federally recognized disasters in the past three years. Flooding and tornadoes adversely affect our agriculture producers and small businesses. Our farmers export nearly $3 billion in agriculture products every year and 80 percent of Arkansas exporters are small businesses, contributing to $12 billion in total state exports since 2016. Total exports increased by 11 percent this past year and 72 percent of agricultural exports from Arkansas go to Western Hemisphere countries, the highest since 2007. Trade supports 350,000 jobs in Arkansas and the EDA grant continues to allow us to help these businesses gain market access to 95% of the world's purchasing population which sustained and increased employment in these disaster counties. When the World Trade Center Arkansas has EDA funds to assist these businesses, their access to the global marketplace remains secure and provides resiliency against future disasters."
Chuck Wemple, Chief Executive Officer Houston-Galveston Area Council:
"The Hurricane Harvey long-Term economic recovery workshops that were held recently spotlight the reason why EDA plays a key role in our region's recovery from natural disasters — helping our communities get quick answers about specific projects that will help them become more resilient and restore their local economies. EDA leads the way on convening the entire spectrum of State and Federal funding partners. We had a fantastic turnout — from small towns and rural counties to major cities and our largest counties."
Lyndsay Ulrickson, Executive Director, Souris Basin Planning Council:
"The City of Minot experienced a severe and unprecedented flood event in 2011. Recovery from this devastation became an enormous task with a price tag in the billions of dollars. Without assistance from EDA on several projects, the City of Minot would be years behind on its recovery efforts. The project funding from EDA has assisted the City in its resiliency efforts, bringing basic needs to residents across the City, while also creating more than 225 jobs. This would not be possible without EDA's generous assistance."
Doug Elliott, Executive Director, East Central Iowa Council of Governments:
"The magnitude of the disasters of 2008 was so great it required significant federal investment in our recovery. EDA's nimbleness set it apart from other federal agencies. EDA representatives worked directly with communities to determine the greatest needs and the most appropriate role for EDA assistance. The flexibility of EDA funding allowed the agency to support a comprehensive approach toward recovery and long-term resiliency, from staffing through recovery coordinators, to business assistance through RLFs, and improvements to infrastructure through public works. Throughout Iowa, and especially in the ECICOG region, the goal was to 'build back better.' EDA was a key partner in bringing that goal to reality."
Nicole Griensewic Mickelson, Executive Director, Region Nine Development Commission:
"The U.S. Highway 169 Minnesota flood restoration project was vital to sustaining and growing the economic prosperity of southern Minnesota, we are grateful to EDA's support and proud to be a part of a lasting solution to what has been an ongoing problem."
Please visit the EDA and Disaster Recovery webpage for more information.
Tags: Disaster