EDA Investment Restores Atlantic City Flood Gates, Saves Jobs and Protects Against Future Floods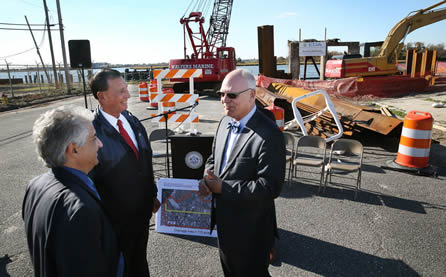 Friday October 30, 2015: Local officials announce the beginning of work on the Baltic Avenue Canal project. (Photo Courtesy: The Press of Atlantic City/ Ben Fogletto)
When Hurricane Irene hit Atlantic City, New Jersey, in August of 2011, it wreaked havoc on the local economy. During extreme high tides and storm events, Atlantic City's two major access roads, the Atlantic City Expressway and U.S. Route 30 flooded rendering the city inaccessible for extended periods of time. The result was the loss of billions of dollars in gaming, hospitality and tourism-related services in New Jersey's primary tourism destination.
Local officials made replacing the antiquated infrastructure - specifically the Atlantis Avenue flood gate system and bulkhead – a major priority in order to protect commerce from the impact of future storms.
In 2012, Atlantic City officials submitted a proposal to EDA for a new flood gate, bulkhead, roadway and site restoration work.
In 2013, EDA awarded the city a $600,000 investment to help fund the replacement of the existing flood gate and bulkhead system along Atlantis Avenue to help the city attract investments within the drainage area of the Baltic Avenue Canal.
New pump chambers were also installed to allow for moving storm water during tidal surge and storm events.
EDA's investment to rebuild infrastructure and protect the city against future disasters was an essential element in Atlantic City's ongoing revitalization and post-Irene economic recovery. It helped reestablish the city's economic viability and mitigate against future flooding.
Project Manager Jim Rutala of Rutala Associates stated, "This EDA grant helped the city to leverage additional funding from completing rebuild of the Baltic Avenue Canal, a $15 million project that will address nuisance flooding throughout the eastern half of the city."
By modernizing critical water and road infrastructure and enhancing access to and from Atlantic City during storm and advance tidal conditions, EDA's investment helped maintain Atlantic City's economic prosperity and save 30,332 jobs.
EDA currently has $587 million available for disaster recovery grants in areas impacted by Hurricanes Harvey, Irma, and Maria and wildfires and other federally declared natural disasters occurring in calendar year 2017. For more information on this disaster funding opportunity, including FAQ's and how to apply, please visit our Disaster Supplemental Funding page.
Tags: Disaster