Minot, North Dakota Restores Critical Infrastructure and Spurs Economic Growth Following 2011 Floods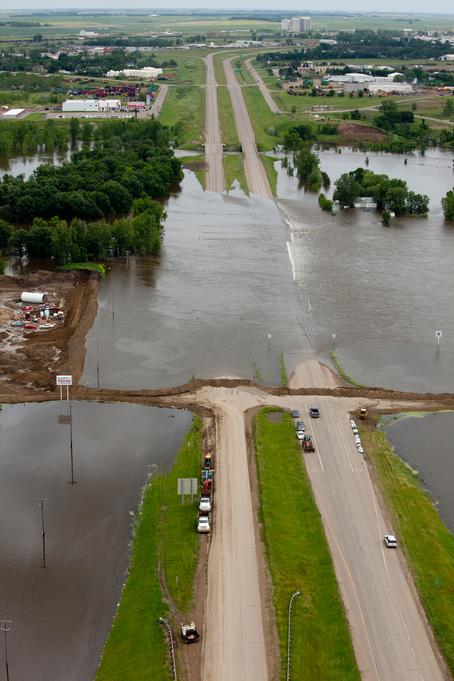 Minot, N.D., June 25, 2011 -- Aerial view of Highway 2, east of Minot closed due to flooding from the Souris River. FEMA Photo by Andrea Booher - Jun 24, 2011 - Location: Minot, ND
In June 2011, the city of Minot, North Dakota, endured its worst flood in 130 years. As the regional commercial center for northwest North Dakota, the displacement of local businesses severely impacted the local economy. If new residential, commercial and retail development was to occur, the city would have to repair and reinforce much of the existing infrastructure.
Recovery from the devastation became an enormous task with a price tag in the billions of dollars. The city was essentially cut in half, with only one major transportation route open to move traffic north to south.
To help get the funding necessary to support critical infrastructure upgrades, city officials reached out to EDA and applied for funding under EDA's Disaster Recovery Program.
In May 2013, EDA awarded the city $18 million to rebuild and upgrade the deteriorated public infrastructure in a 26-block area of downtown Minot. The investment funded the replacement of water, sewer and lighting infrastructure and replacement of all curb, gutter, sidewalks, streets and traffic lights within downtown Minot. The improvements also increased accessibility to the North Hill retail corridor and supported development of approximately 13-acres of retail space and construction of an additional 13-acres adjacent to the site for commercial and mixed use development.
"The City of Minot experienced a severe and unprecedented flood event in 2011, said Lyndsay Ulrickson, Executive Director at the Souris Basin Planning Council. "Recovery from this devastation became an enormous task with a price tag in the billions of dollars. Without assistance from EDA on several projects, the City of Minot would be years behind on its recovery efforts. The project funding from EDA has assisted the City in its resiliency efforts, bringing basic needs to residents across the City, while also creating more than 225 jobs. This would not be possible without EDA's generous assistance."
With improved infrastructure in place, the businesses and residents who call downtown their home have a brighter future ahead. And today, North Hill now houses a grocery store, gas station, hardware store, clinics, and many other new businesses, providing the city with increased resiliency in the event of another major disaster. To date, it is estimated that new businesses have created more than 225 jobs. Additional commercial buildings continue to be built.
EDA currently has $587 million available for disaster recovery grants in areas impacted by Hurricanes Harvey, Irma, and Maria and wildfires and other federally declared natural disasters occurring in calendar year 2017. For more information on this disaster funding opportunity, including FAQ's and how to apply, please visit our Disaster Supplemental Funding page.
Tags: Disaster