EDA Investment to Expand Nashville Entrepreneur Center Spurs Critical Business Growth Following 2010 Flooding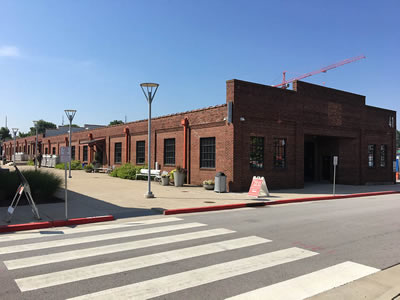 Nashville Entrepreneur Center Exterior
EDA has had a long history of working with local communities to help successfully implement disaster recovery and resilience assistance through supplemental disaster appropriations.
Historically, EDA has awarded competitive disaster recovery grants primarily within the following four categories: Strategic Planning, Capital for Alternative Financing, Infrastructure Development, Resilience.
Today, with funds appropriated under the Bipartisan Budget Act of 2018 (PL 115-123) (PDF), EDA is awarding $587 million in disaster supplemental investments to eligible entities in communities impacted by Hurricanes Harvey, Irma, and Maria, wildfires and other calendar year 2017 natural disasters under the Stafford Act.
A great example of EDA projects that support local plans to advance their economic revitalization and resiliency efforts following a natural disaster can be found in Nashville, Tennessee.
When catastrophic flooding crippled the city and many other communities in Middle and Western Tennessee in 2010, nearly 12,000 properties, including 2,773 Nashville businesses employing 14,500 people, were impacted. The affected businesses experienced damages and losses of an estimated $2.5 billion.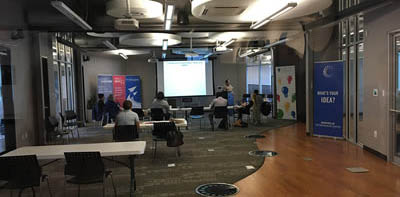 Nashville Entrepreneur Center Clients receiving mentor assistance
To strengthen the region's entrepreneurial ecosystem following the floods, EDA awarded $2.5 million appropriated disaster funds in Fiscal Year 2011 to the Nashville Entrepreneur Center (EC) to expand their operations by renovating the historic Trolley Barn building.
The project increased usable space for fledgling businesses specializing in high-tech/high-growth sectors from 7,000 to 20,000 square feet; four times the prior capacity. As a result, the center was able to increase service from 18 to 72 businesses.
Originally constructed in the 1930s, the Trolley Barns is an adaptive reuse project of six single-story historic buildings located in the revitalized Rolling Mill Hill neighborhood in Downtown Nashville. The Trolley Barns was awarded with the "Excellence in Development Award" from the Urban Land Institute in 2013, and is listed on the National Register of Historic Places. The Entrepreneur Center officially opened its doors at the Trolley Barns in June 2013.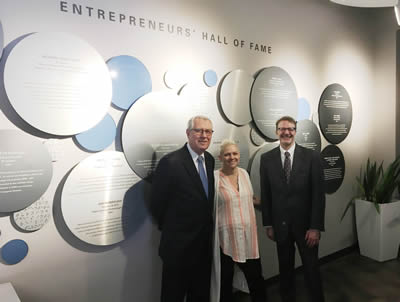 EDA DAS-RA Dennis Alvord, EDA Atlanta Regional Director Phil Paradice and Nashville Entrepreneur Center VP of Operations Heather McBee tour the center
The EDA-funded project helped to preserve the integrity of the historic designation and meet the Certified Silver Leadership in Energy and Environmental Design (LEED) standard.
The Nashville EC project is consistent with locally-developed strategic planning, including the EDA funded Comprehensive Economic Development Strategy (CEDS) of the Greater Nashville Regional Council, the Long-Term Flood Recovery Plan, and Partnership 2020.
This project advances the EC's mission of connecting entrepreneurs with critical resources to create, launch and grow businesses. The EC community includes over 500 alumni and more than 750 members.
Core programming includes community events, entrepreneur education and tech focused industry-immersion programs in healthcare (Project Healthcare) and music (Project Music). In addition, the EC connects entrepreneurs with other critical resources that exist in the ecosystem to enable entrepreneurial growth and success.
More examples of how EDA has helped communities rebound following natural disaster events can be found on our success stories webpage.
For information on EDA's current Disaster funding opportunity, including FAQ's and how to apply, please visit our Disaster Supplemental Funding page.
Tags: Disaster