Southwest Region Economic Development Association Salutes Outstanding 'Star of the Southwest' Projects at 2018 Annual Conference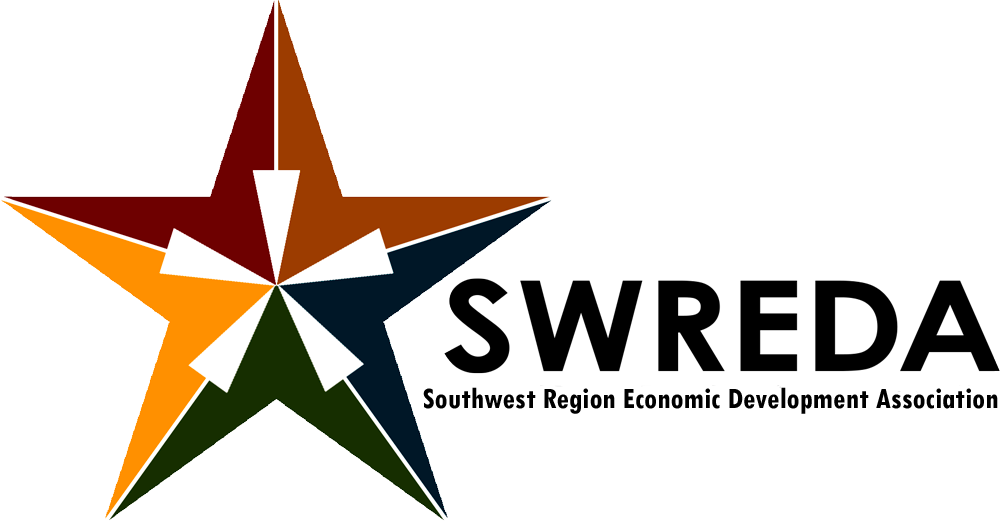 The Southwest Region Economic Development Association (SWREDA), a voluntary association of executive directors of Councils of Governments and Economic Development Districts working across EDA's five-state Austin region, this week honored nine impactful projects as part of the organization's 2018 Annual Conference.
These 'Star of the Southwest' awardees are recognized for having made a measurable and positive impact on their regions.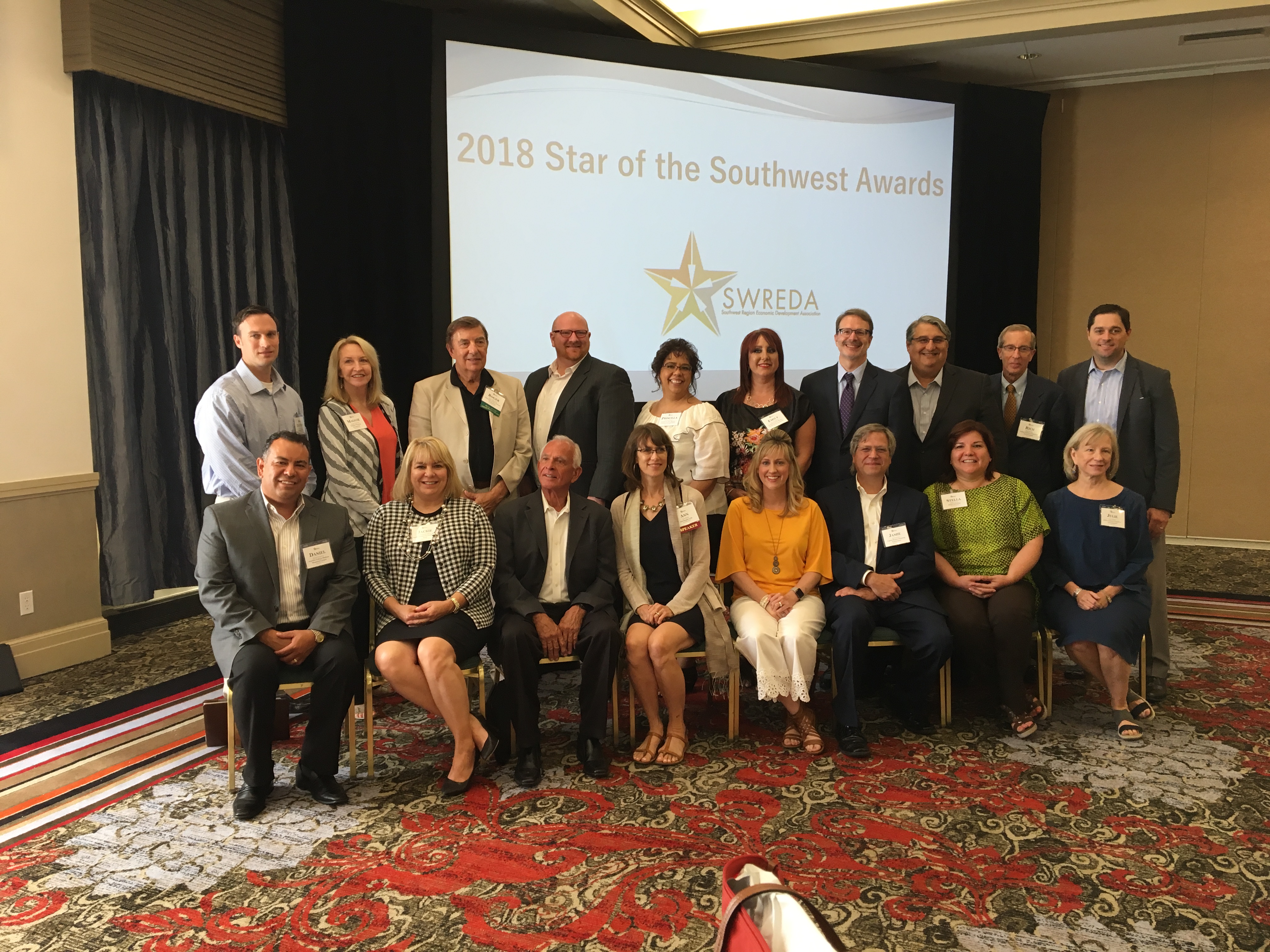 2018 SWREDA Stars of the Southwest Awardees
The 2018 'Star of the Southwest' awardees are:
Arkansas
Central Arkansas Planning Development District and the Pulaski County Government, Arkansas Regional Innovation Hub
The Arkansas Regional Innovation Hub is a nonprofit organization dedicated to increasing innovative and entrepreneurial activity in Arkansas by creating a collaborative ecosystem and pipelines that mobilize the resources, programs and educational opportunities necessary to develop, attract and retain talent and to build the state's economy. Comprised of four program elements: Art Connection, EAST Lab, Launch Pad, & Silver Mine, the Hub is housed in located in a building located in North Little Rock that a $1 million EDA investment helped to renovate.
White River Planning and Development District, Inc. and the City of Fairfield Bay Conference Center
A $1.1 million EDA investment helped to repair the Fairfield Bay Conference Center and Marina, restoring a vital economic component to the region. The project also funded the rebuilding and elevation of West Cliff Drive at Lynn Creek Crossing above flood level, mitigating the effects of future flooding on business activities. The project was funded through EDA's FY 2012 Disaster Relief Opportunity, which supported community long-term recovery, job creation, and disaster resiliency efforts. The conference center houses the Our Towne Performing Arts Center, the North Central Arkansas Fine Arts Gallery and a complete meeting/conference center.
Louisiana
Capital Region Planning Commission (CRPC) and the Town of Walker, Louisiana
The Town of Walker, Louisiana, was awarded a $1.5 million EDA investment for construction of improvements at Walker Industrial Park to help retain a major center of employment for the town and the region. The project consisted of three infrastructure components: 1) A waterline replacement and pressure enhancing measures, 2) sewer collection system upgrades and 3) construction of a roadway extension of the existing two lane roadway. Four major employers encompass the industrial park with 800 employees, with 98 acres owned by private companies operating business, which is about 8.2 employees per acre. Over 650 of these employees come from 10 of the 11 parishes located in the Capital Region Planning Commission's district. There is roughly 93 acres remaining in the industrial park that are Louisiana Economic Development (LED) certified, one of only 47 in the state, and ready for sale.
Regional Planning Commission (New Orleans) and the University of New Orleans (UNO) Foundation
UNO Foundation utilized a $3 million EDA disaster supplemental investment to expand a Film Production Center in Harahan, Louisiana. The nearly 100,000-square foot Nims Center Studios boast five stages totaling more than 50,000 square feet, four green screens, 45 production offices, editing suites, a mixing room, state-of-the-art sound and film equipment. A state-of-the-art sound stage designed for shooting movies was recently completed. The Nims Center soundstage and Second Line Stage uptown are the only stages in New Orleans that have been designed as sound stages and built new from ground up. Others in the city are located in modified warehouses. The EDA investment helped to establish a 5,000-square foot incubator facility where young and talented film industry entrepreneurs now work and UNO students, staff and alumni are able to take advantage of the studios' technology, industry internships and project development opportunities.
New Mexico
Mid-Region Council of Governments and Sandia Science & Technology Park Development Corporation
A $1.1 million EDA investment created a master-planned technology community that is now home to 47 companies and organizations and more than 2,000 employees. It sits on 340 acres adjacent to Sandia National Laboratories and the Air Force Research Lab. Companies within the park collaborate with these top laboratories on a broad assortment of technologies, products, and services. The park provides access to the resources of the national labs without the complications of being located inside the security gates of Kirtland Air Force Base. This allows for an easier transfer of research and development, business, and commerce. The SS&TP is celebrating 20 years of economic growth, having broken ground on May 28, 1998. Project benefitted 47 primarily high-tech companies.
Southwest New Mexico Council of Governments and Catron, Grant, Hidalgo and Luna Counties
The Southwest New Mexico Council of Governments (SWNMCOG) was awarded $250,000 EDA investment to start implementing the SNM Green Energy and Jobs Strategic Plan. Project accomplishments include: hosting storm water harvesting training, hosting green building training with ICAST, installing 388,000 sq. ft. of local government LED lighting retrofits for facilities and amenities, saving of 770,184 annual kilowatt hours and $91,348 annually, finalizing a Green Technology and Sustainable Food Business Incubator feasibility study, and creating a Renewable Technology and Sustainable Food Business Incubator feasibility study.
Oklahoma
Indian Nations Council of Governments (INCOG) and Tulsa County
The project leveraged $160 million investment for the development of a Macy's fulfillment center. A $950,000 EDA invested helped to construct acceleration and deceleration lanes at two intersections on 76th Street North, a major arterial located in an unincorporated area, to accommodate increased vehicle traffic. The project extended Sheridan Road approximately 2,500-feet and installed signalization at the intersection of 75th East Avenue. The new alignment for the roadway allows for truck traffic to enter and exit the facility at an existing signalized intersection and provide stacking lanes.
Texas
Alamo Area Council of Governments EDD and the Central Texas Technology Center (CTTC)
A $1.25 million EDA investment helped to expand the Central Texas Training Center's ability to offer enhanced workforce training and development for the cities of New Braunfels and Seguin, as well as Comal and Guadalupe counties. The expanded facility provides science and technical training which has been identified as one of the greatest needs in accomplishing the region's goal of building its manufacturing and industrial base. The expanded technical training capabilities has served as a critical element for drawing businesses and industry to relocate in the region. This facility is an avenue for New Braunfels/Seguin area residents to attain entry-level skills or increase technical skills and to connect to jobs or higher education opportunities.
Panhandle Regional Planning Commission and Amarillo College
After the prolonged drought in the region and several ravaging wild fires, a major disaster declaration was declared in Castro, Oldham and Deaf Smith Counties. An $875,000 EDA investment helped the community provide education to meet the coming demand for skills and jobs. Without this vital effort, many of the jobs would have been outsourced. Instead this project equipped an already constructed Amarillo College Facility with various types of equipment for training. Training included forklift operation, truck driving, industrial maintenance, solar energy, wind energy, a bio-chem lab, and a mobile renewable energy lab.