Welding Program at North Georgia Technical College Provides Businesses in Region with Skilled Workers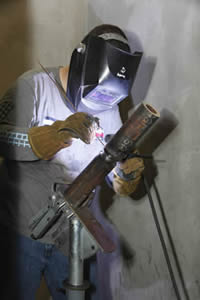 Student at North Georgia Technical College welds pipe.
To support businesses and boost job growth in the region, the North Georgia Technical College (NGTC) strategized to build a new welding facility at its main campus in Habersham County. Today, the new welding lab is providing the region's workers with the skills many local industries require.
To help establish the new welding lab, NGTC leadership worked with the Georgia Mountains Regional Commission (GMRC) to secure matching funds through EDA.
In 2009, the GMRC submitted the proposal to EDA on behalf of NGTC who were awarded a $647,500 grant in April 2010.
To date, the welding program has seen great success having helped create or retain 145 jobs, according to GMRC. In addition, since the completion of the project in September 2011, NGTC has awarded a combined 222 certificates and diplomas to welding students. Moving forward, students will continue to receive high-quality training in basic and advanced welding skills and industry requirements through the facility.
For more about NGTC's welding program, check out their website (PDF).