EDA Revolving Loan Fund Critical to the Success of Cedar Rapid's Geonetric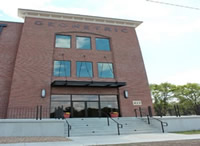 Cedar Rapids, Iowa based Geonetric
Geonetric, based in Cedar Rapids, Iowa, provides hospitals, health systems, and medical groups with the healthcare-specific content management systems they need to be optimized to respond to the unique needs of the healthcare industry.
Founded in 1999, Geonetric began by providing web application development generally, but quickly coalesced around the healthcare market. Currently, they build and support VitalSite CMS, a healthcare specific content management system.
Originally, the company received $150,000 from the EDA-capitalized East Central Iowa Council of Government Revolving Loan Fund (RLF) to help purchase computers and other working capital.
At the time of their application in 2010, they retained 9 individuals with prospective job growth of 35-54 within three years. By the end of 2015, they employed a total of 78 people.
Due to continued growth, Geonetric developed a new product called CareDrop, a community family caregiver platform that streamlines the process of finding help in one's own community.
Once again, Geonetric received $500,000 in RLF money for computers, furniture, fixtures, equipment, and working capital to launch this new product. The company hopes to create 50+ jobs in the next five years.
For several years in a row, they have been recognized by the Corridor's Business Journal as one of the fastest growing companies in the area. It was also named to the Coolest Places to Work list in the Corridor in 2013.
In the spring of 2014, Geonetric moved into a new building (pictured) and – in partnership with Vault Coworking and the NewBo Company, a non-profit – dedicated the second floor as a business incubator space. They hope to launch at least 100 startups during the next few years.
For more information, visit to www.geonetric.com.
Tags: Innovation & Entrepreneurship, Small Business Development/RLF