Innovative Senior Solutions, Cordele, Georgia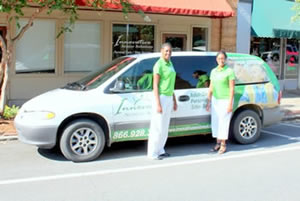 In September 2010, two registered nurses, Eshonda Blue and Jessica Wright, approached the River Valley Area Development Corporation for financing of an Adult Day Care Home (ADCH) to be located in Cordele, Georgia. Innovative Senior Solutions (ISS) received an $18,750.00 loan through the EDA Revolving Loan Fund (RLF) and the company injected $6,250.00. The funds were used to lease and renovate a vacant house and for furniture and fixtures in Cordele, Georgia for the ADCH.
"The loan that Innovative Senior Solutions received in 2010 from the EDA funded RLF program allowed us to expand our services by opening the first of three Adult Day Health Centers (ADCH)," said co-owners Eshonda Blue and Jessica Wright. "The ADH Centers are a community service that provides seniors, individuals with disabilities, and those at risk of being placed in a nursing home a safe and secure environment that they can attend during the day and remain in the comforts of their home and community. River Valley Regional Commission's role in our growth is invaluable; the financial assistance and support of the agency will be forever woven into the success story that is Innovative Senior Solutions (ISS)."
By 2013, ISS had reached 100 clients and their service area had grown to include providing services in a total of 19 counties. The company that started with Blue and Wright as the sole two employees has grown to employ over 100 people. ISS has gained an impeccable reputation as providing the best home health care in the area, and Blue and Wright have been recognized with several awards.