The River Valley Regional Commission Revolving Loan Fund Success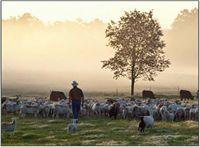 White Oak Pastures
The River Valley Regional Commission through its Economic Development Revolving Loan Fund assisted a local business, White Oak Pastures with financing to purchase and renovate a building in Bluffton, GA.
The project will create 5 new jobs and the building will house their corporate offices as well as serve as a retail store displaying and selling their unique artisan creations produced on the farm and will serve both the local and traveling population where they will be able to purchase meat products and other farm raised items. White Oak Pastures is solely a grass-fed pastured program for all livestock and involves no confinement feeding, hormones, or antibiotics. Their livestock includes beef, pork, sheep, chickens and egg production, ducks, geese, guineas and turkeys.
The farm also has a Certified Organic vegetable farm. All of their meat products and vegetables as well as all artisan products produced on the farm will be available to the public through the new retail location. The key customers of White Oak Pastures are Whole Foods, Publix, Atlanta restaurants, US foods, Sysco, Buckhead Beef and local farmers markets in Albany, Columbus, and Atlanta.
The most recent transition for White Oak Pastures included building an on-farm USDA-inspected beef abattoir and an on-farm USDA-INSPECTED POULTRY ABATTOIR. White Oak Pastures is the only farm in the United States with its own red meat and poultry on-farm USDA-Inspected abattoirs. In addition, they have built an on-farm restaurant (Pavilion) to feed their 120 employees. The restaurant is open to the public as well and serves lunch every day and supper Wednesday through Saturday.