Federal Assistance for Economic Development
A core objective for Economic Development Integration at EDA, is to increase your access to the most relevant federal resources that support job creation, drive innovation and entrepreneurship, and build resilient regional economies. This page offers resources to help communities across the US to more readily identify and apply for the federal economic development resources that best support their local priorities and objectives.
In addition to funding opportunities available through EDA, the websites, tools and partner organizations listed below provide a wealth of financial and technical assistance opportunities available from other federal agencies that can be leveraged with local and private resources to ensure projects reach the scale and impact necessary to assist distressed areas, and to provide long term benefits for the entire region.
Check out these current opportunities from our federal partners:
Upcoming Deadlines -- Featured Federal Funding Opportunities

See below for a selection of funding opportunities that may complement your region's economic development strategies. For more detail or to apply, open the Grants.gov search field and enter the Opportunity Number shown here:

Opportunity Number
Opportunity Title
Agency
Posted
Closes
Innovation, Entrepreneurship, & Business Assistance
USDA-NIFA-SLBCD-007772
Assistive Technology Program
USDA
1/13/21
Industry/Sector
20210114-PG
Preservation Assistance Grants for Smaller Institutions
National Endowment for Humanities
1/14/21
Workforce Development
HRSA-21-020
Nursing Workforce Diversity (NWD) Program
HHS
1/19/21
Innovation, Entrepreneurship, & Business Assistance
USDA-FS-WERC-2021
2021 Wood Innovations Funding Opportunity
USDA
1/20/21
Innovation, Entrepreneurship, & Business Assistance
DE-FOA-0002196
Buildings Energy Efficiency Frontiers & Innovation Technologies (BENEFIT) - 2020
DOE
1/20/21
Workforce Development
USDA-NIFA-HSI-007752
Hispanic-Serving Institutions Education Grants Program
USDA
1/28/21
Infrastructure
DHS-20-MT-047-00-99
FY20 Building Resilient Infrastructure and Communities
DHS-DHS
1/29/21
Disaster Assistance
DHS-20-MT-029-000-99
FY20 Flood Mitigation Assistance
DHS
1/29/21
Workforce Development
PAR-21-034
NIDDK Education Program Grants (R25 Clinical Trial Not Allowed)
NIH
1/31/21
Innovation, Entrepreneurship, & Business Assistance
USDA-FS-COMMUNITY-WOOD-2021
Community Wood Energy and Wood Innovation Program
USDA
2/3/21
Workforce Development
USDA-NIFA-SAECP-007855
Secondary Education, Two-Year Postsecondary Education, and Agriculture in the K-12 Classroom Challenge Grants Program (SPECA)
USDA
2/4/21
Workforce Development
FOA-ETA-21-01
Workforce Pathways for Youth grant program
DOL
2/4/2021
Workforce Development
FOA-ETA-21-04
YouthBuild
DOL
2/9/2021
Workforce Development
NOAA-NMFS-AK-2021-2006616
FY 2021 Alaska Native Organization Co-Management Funding Program
DOC
2/12/21
Workforce Development
USDA-NIFA-RIGP-007856
Resident Instruction Grants Program for Institutions of Higher Education in Insular Areas
USDA
2/15/21
Workforce Development
DE-FOA-0002421
Early Career Research Program
DOE
2/16/21
Workforce Development
USDA-NIFA-AHSI-007832
Alaska Native-Serving and Native Hawaiian-Serving Institutions Education Competitive Grants Program (ANNH)
USDA
2/17/21
Disaster Assistance
RFA-GH-21-004
Conducting Research to Inform Pandemic Response and Recovery of Emergency-Affected Populations by Determining Public Health Needs, Improving Methods, and Integrating Services to Mitigate Morbidity and Mortality (DISASTER RESOURCES)
HHS
2/18/21
Planning & Technical Assistance
21-542
Build and Broaden 2.0: Enhancing Social, Behavioral and Economic Science Research and Capacity at Minority-Serving Institutions
NSF
3/5/21
Planning & Technical Assistance
USDA-NIFA-CGP-007858
Higher Education Challenge (HEC) Grants Program
USDA
3/18/21
Infrastructure
N/A
Rural Energy for America Program Renewable Energy Systems & Energy Efficiency Improvement Guaranteed Loans & Grants
USDA
3/21/21
Innovation, Entrepreneurship, & Business Assistance
N/A
Rural Microentrepreneur Assistance Program (RMAP)
USDA
3/31/2021
Infrastructure
DOTBAB202012
Regional Infrastructure Accelerators
DOT
3/31/2021
Workforce Development
TAP-2021
OIA Technical Assistance Program
DOI
4/1/21
Planning & Technical Assistance
EPA-OLEM-OBLR-20-08
Technical Assistance to Brownfields Communities
EPA
10/30/21
Workforce Development
HHS-2020-IHS-UIHP3-0002
Urban Indian Education and Research Program, Competing Supplement
HHS
11/6/21
Workforce Development
-2021-ACL-NIDILRR-ARHF-0009
Advanced Rehabilitation Research Training (ARRT) Program - Health and Function
HHS
12/18/21
Workforce Development
HHS-2021-ACL-NIDILRR-ARCP-0005
Advanced Rehabilitation Research Training (ARRT) Program - Community Living and Participation
HHS
12/18/21
Workforce Development
HHS-2021-ACL-NIDILRR-AREM-0007
Advanced Rehabilitation Research Training (ARRT) Program - Employment
HHS
12/18/21
Infrastructure
NOAA-NFA-NFAPO-2021-2006626
FY2021 to FY2023 NOAA Broad Agency Announcement (BAA)
DOC-NOAA
9/30/23
Planning & Technical Assistance
N/A
Cybersecurity Education Diversity Initiative (CEDI)
DOD
Open
Workforce Development
PWEAA2020
FY 2020 EDA Public Works and Economic Adjustment Assistance Programs (Includes CARES Act Addendum)
DOC-EDA
Open
Disaster Assistance
EDA-2019-DISASTER
FY 2019 EDA Disaster Supplemental
DOC-EDA
Open
EDA funding opportunities are just the tip of the iceberg regarding federal resources that can support a comprehensive regional strategy. A full range of funding opportunities can be found at the following sites, which are arranged from the most comprehensive online resources (i.e. Grants.gov and the CFDA), to more targeted resources including EDA's own set of funding opportunities, many of which are open now. See below for more information on the following pages that list resources from more general, to those specifically targeted to economic development: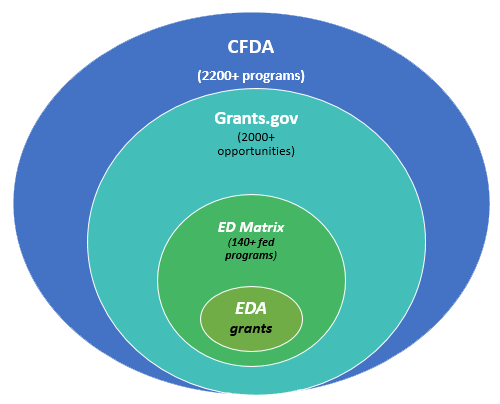 Federal Assistance Listings (SAM)
As an entity looking for federal assistance for your economic development project, you can conduct your preliminary planning using the U.S. Government's official site that hosts its System for Awards Management (SAM). The SAM database integrates ten previously separate systems for federal procurement and grant awards in single location.
Browse SAM for assistance listings across all government agencies to form a "big picture" of your funding options. Enter a keyword or agency name to browse listing, and select filters to narrow results by type of applicant or assistance (grant, loan, etc.). Each listing is associated with a unique five digit CFDA (Catalog of Federal Domestic Assistance) number. Once you identify a federal assistance listing that you're interested in, you can link directly to grant opportunities on Grants.gov or follow up with that specific agency using the contact information provided.
SAM Assistance Listings website: https://beta.sam.gov/search?index=cfda
Current Federal Funding Opportunities (Grants.gov)
The Grants.gov website provides a brief description of all federal grant-making agencies, and lists currently available funding opportunities that can be sorted by category, eligibility, due date and other key criteria.
Matrix of Federal Resources for Economic Development
The volume of programs and variety of agencies, and different requirements can frustrate even the most resourceful applicant. We have identified over 130 federal programs, currently listed in the CFDA, that offer grants, technical assistance or other support that can support different aspects of economic development - in areas ranging from entrepreneurship to infrastructure, workforce development to transportation, trade promotion to capital access, and strategic planning to research and development.
These offerings are arranged in a matrix to help you identify which of these offerings may be best for project funding vs. technical assistance, organizational vs. individual assistance, and for the particular type of activities that your region seeks to implement. A new column has been added to identify programs that currently offer preference, flexibility or other targeting for Qualified Opportunity Zones. Use the filter function to sort the listings by column heading, click on the CDFA number to read the program overview at www.beta.sam.gov, and visit the program office link for funding availability, contacts and additional information.
The EDI team welcomes your updates or additions to this beta version of the matrix. Send us your feedback at edi@eda.gov
EDA Funding Opportunities
EDA accepts applications on a rolling basis for its Public Works (PW) and Economic Adjustment Assistance (EAA) grant programs, which provide grant funding for infrastructure, facilities, planning, feasibility studies, and similar projects to improve regional economies. Other EDA funding opportunities, such Regional Innovation Strategies (RIS), have specific application deadlines.
Contact EDA
EDA staff maintain collaborative relationships with interagency colleagues in regional and local offices of federal agencies whose programs complement the broad-based economic development strategies that EDA stakeholders pursue in rural and urban areas across the country.
How Can We Improve This Page? Let Us Know!
The EDI team is always looking for opportunities to update and improve the federal economic development resources featured on this page. Please help us make sure that the information we post is consistently useful to your organizations, communities and regions. If you have ideas or updated content you would like us to include here, please contact us at edi@eda.gov.