Letter from Acting Secretary of Commerce

Dear Mr. President and Mr. Speaker:
I am pleased to submit the annual report on the activities of the U.S. Economic Development Administration (EDA), U.S. Department of Commerce, for fiscal year 2012, in compliance with Section 603 of the Public Works and Economic Development Act of 1965, as amended (42 U.S.C. § 3213).
Over its nearly 50 year history, EDA has invested in bottom-up regional innovation strategies to strengthen the nation's regions, leverage private investment, and help create jobs. The agency's smart investments support the Department of Commerce's efforts to bolster advanced manufacturing, increase U.S. exports, and attract more investment to help American businesses build it here and sell it everywhere.
Sincerely,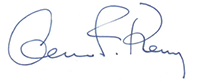 Cameron Kerry
Acting Secretary of Commerce